Love a freshly pumped cup of coffee in the morning? Us too. And the best bean to cup coffee machine promises to do all the hard work for you. With just a touch of a button, it makes you a drink so perfectly-crafted you'd think you'd turned a barista.
Typically, bean-to-cup coffee machines have a built-in burr grinder, milk frother, high-pressure hot steam pump, water boiler, drip tray, and adjustable coffee dispenser.
But the best Bean to cup coffee machines take things a notch higher. They incorporate a milk frother where fresh milk is piped into the system, heated and frothed, then added to your cup as a heavy and thick foam. It is this steamed milk foam that makes your cappuccino or latte irresistibly delicious.
Sure, it's possible to make great coffee at home, but these do-it-all machines aim to streamline the coffee-making process. So if you think manual coffee makers are a waste of time and pod coffee makers are a waste of resources, these all-in-one cup machines are simply the ticket.
Please keep reading to view our bean to cup coffee machine reviews as well as honest opinions on the best ones. Let's dive right in!
Which Bean to Cup Coffee Machine is the Best?
This is an easy one. You'll absolutely love the price! Take a deep breath before attempting to say its name out loud: the best bean to cup coffee machine is the Jura WE6.
Moving up a few pegs in price, the Sage The Oracle is a worthwhile punt, especially if you are a stickler for stylish design and tasty expresso.
Finally, those looking for something cheaper and simple might consider the Sage The Barista Pro while those who're really into classic coffees will love the Jura WE8, as it is the King of Specialties.
What is the Best DeLonghi Bean to Cup Coffee Machine?
If you're a diehard fan of the expresso, the best Delonghi bean to cup coffee machine is the way to get the best one.
In our eyes, the DeLonghi Primadonna S Evo should be your go-to model in this regard. Does it give real bang for the buck? Read on, and we'll tell you about that in a bit.
Are Bean-To-Cup Coffee Machines Any Good?
Bean to cup coffee machines are the best for a reason. They give you the best of both worlds- the possibility to use various types of coffee beans without all the mess of tampering and grinding.
They do look a little intimidating, though. Plus, they're also the most expensive models on the market.
All the same, the best bean to cup coffee machines offer real value for money. They're large and offer a slew of options. They are easy to use, too. The best part? These models do everything for you (from grinding whole coffee beans to making a dozen programmable classic drinks) at the touch of a button.
The 10 Best Bean To Cup Coffee Machines For Home Use in the UK
When selecting the right coffee maker for your home, it's often a good idea to know where to start.
We've thoroughly reviewed 10 options with unique specifications to suit all your coffee-making requirements at home. Check them out below:
1. Jura WE6 (Best Overall)
£1,349.80 Hub Coffee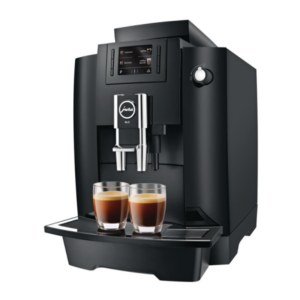 Features & Benefits
Milk Container
Manual fill
3L Water Tank
Excellent steam wand
8 programmable classic drinks
Classic coffees at the touch of a button
Quick heat-up
Integrated cleaning programs
Naturally, this being our best bean-to-coffee machine, the drinks are excellent with a wonderful flavour and an enticing aroma that we judged as slightly better than those from some of the high-street models. Think of a coffee, and this machine will create it for you. That's all the classic coffees- cappuccino, ristretto, espresso café latte, and so on. What makes it unique, sophistication notwithstanding, is that the Jura WE6 is simple to use. The kind of design your family will love.
2. Sage SES878BSS The Barista Pro (Best Machine
for Wannabee Baristas)
£592-£750 Amazon
Features & Benefits
2L water tank
30 grinding options
Milk container
Great steam wand
Stainless steel
5 programmable drinks
A stylish coffee maker for your kitchen, this machine not only grinds whole coffee beans but also froths milk superbly well. It offers quick heat up, too. Of course, you can bring your favourite coffee shop home by creating latte art with the steam wand on this machine. The best part? It's fully automatic so you can make all your favourite coffees in record time.
3. DeLonghi Primadonna S Evo (Best For Multiple People)
£749-£1,199
Features & Benefits
User-friendly tech
Milk container
1.81L Water Tank
Automatic cleaning
Great steam wand
One button touch for long, espresso lungo, doppio, and espresso coffees are at the top of the list of what we like about this machine. Add to this milky drinks including latte, cappuccino, and more which come thanks to the built-in milk frother. Oh, and it'll brew a cup for you and your mate at the same time, which is a huge plus. What's also admirable about this beast is the silky looks and glossy finish.
4. Melitta F85 Barista TS Smart (Best For One-Touch Function)
£689- £1379 Amazon
Features & Benefits
1.8L Water Tank
8 different people profiles
Awesome customization options
Milk container
Works almost silently
Perhaps the most outstanding thing about this bean to coffee machine is that you can seamlessly prepare fresh coffee simply with your smartphone. And who can say no to a coffee machine that can make up to 21 different coffee specialities?
5. Miele CM6150 Bean to Cup Machine (Best For Style)
£825-£999 Amazon
Features & Benefits
1.8L Water Tank
Sleek and Stylish design
Stress-free cleaning and maintenance
Fully automated functions
Integrated milk frother
One of the best bean to coffee machines around, the Mile 6150, not only makes good quality coffee but also grinds well. You'll be able to make two different drinks simultaneously. Oh, and there are profiles you can set up with your name, which makes it easy to concoct your favourite coffee.
6. DeLonghi Eletta ECAM 44.660.B (Great Latte)
£606-£965
Features & Benefits
2L water tank
Milk container
Auto-cleaning
Latte Crema technology for smooth, rich milk froth
13 grinding options
What's not to love about a bean to cup coffee model that gives you full reign over your cup with merely a touch of a button? Eletta doesn't stop there- the machine itself is super easy to set up, clean, and maintain. You'll also find the milk perfectly velvety and the coffees rich and fragrant- just how you want it.
7. Jara WE8

Manual Fill Coffee Machine (Best Value For Money Choice)
£1595 Hub Coffee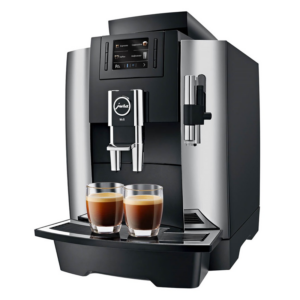 Features & Benefits
3L water tank
Integrated cleaning programs
Up to 12 programmable speciality drinks
Modern display for ease of use
Compatible with J.O.E app
Alright, so this one might be a bit pricey, but it's definitely worth it. If you like milky espresso-based drinks and are after all the bells and whistles with your coffee maker, then pay attention to the WE8. It's easy to use, compact, and keeps pouring drink after drink with the huge water tank- happy days!
8. Sage The Oracle (Best For Dual Espresso)
£1499-£1699
Features & Benefits
2.5L water tank
Milk container
Stainless steel boiler
Easy and intuitive operation
Ask any coffee expert, and they'll tell you that the Sage The Oracle easily ranks among the best bean to cup coffee machines ever made. With a base price of no less than £1499, you would expect café-quality espresso with this model- and that's exactly what you get. While all the machines on this roundup can create coffee from coffee beans, the Sage is well and truly automatic. But is it worth the money? We certainly think so.
9. Jura Impressa XJ9 (Most Premium)
£1700-£1940 Hub Coffee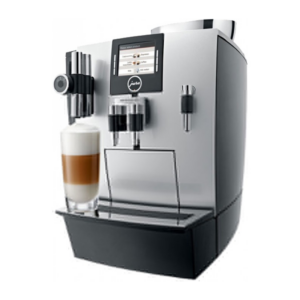 Features & Benefits
Height-adjustable spout

5-inch colour display

10 programmable speciality drinks
One-touch function
4L water tank
Integrated cleaning programs
Want a bean to cup coffee machine that combines quiet sophistication with next-level capabilities? Then the XJ9 is the model for you. It is fully automatic, so it prepares a wide variety of drinks at the touch of a button. Add in the ease of customization, and you'll certainly love the coffee-making experience with this beast.
10. Delonghi Dinamica (Best Mid-Tier)
£800-£1200
Features & Benefits
Stainless steel boiler
Integrated milk frother
1.8L water tank capacity
Customized one-touch drinks
Full-bodied ice coffee technology
Quick heat-up time
An automatic bean to cup coffee machine, the Dinamica offers coffee lovers a wide range of beverages- from long espresso to espresso to drip-style. It's all designed to keep your daily drink from becoming your daily grind.
Wrapping Up: What is The Best Bean to Cup Coffee Machine?
So, let's do a quick recap…if you're looking for a stylish coffee machine which will make up to 8 programmable classic drinks and your all other favourites exactly as you like them, we highly recommend the Jura WE6.
Need a budget espresso machine that unleashes your inner barista? Then we would recommend the DeLonghi Eletta. It is stylish, makes great morning brew, and has a ton of grinding options- and all for a price that won't weigh heavily on your pocket. Still torn apart between the best coffee machine?
Still torn apart on choosing the best Bean to cup coffee machines for you? Get in touch with us today, and we will be more than willing to assist.